Action sports and activities
The obvious ones are - walking, birdwatching, fishing, golf, swimming at the local beaches, eating out, or visiting local churches and castles with which Gower is well endowed. Here's a selection of other things and/or more details.
Learn Digital Photography whilst being guided around Gower:
http://www.zoomscape.co.uk/book_a_photography_tour.html
Take a trip around the Gower Coast by boat.
http://www.gowerexplorer.co.uk/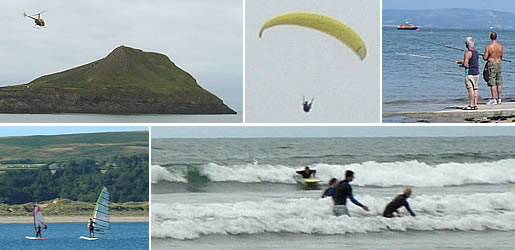 This page gives a flavour of the more obvious things to do in Gower and surrounding area, but it is not exhaustive. Have a good look on the visitSwanseabay websitre or the Visit Wales websites or on some of the links provided below.
As examples, of further afield, Pembertons Chocolate Factory, Folly Theme Farm, and Oakwood Park (quality) Theme park (similar to Chessington World of Adventures), are only a hour's drive away and are well worth visiting outside of Gower Peninsula itself.
Within Gower more close by you can do the following: Surfing, sea angling, Golf (6 golf courses in Gower), Birdwatching, Paragliding, Jet Skiing, Swimming, mountain biking, rock climbing, yachting, canooing, archery, horseriding/trekking, scuba and snorkelling, League Football and top flight Rugby Union are all available either in Gower or nearby Swansea and Mumbles.
Contact the following:-
Golf
There are five courses on Gower, and another close by. Pennard, Langland, Clyne, Gower, & Fairwood Golf Clubs are all in Gower (and Machynys Golf Club is close by at Trostre, near Llanelli). Gowerton houses a driving range.
Fishing
As seen in Sea Angler Magazine regularly, some of Wales very best Sea Angling (Bass, Plaice, Dab, Gurnard, Turbot, Whiting/Cod, Ray, Flounder, Mackerel, Tope and Golden Grey Mullet to name a few local species)Fishing tackle and bait at Country Angling at Gowerton, or Rogers Tackle at Swansea Marina - also Mainwarings in Sketty Cross, Swansea. The best venues are Mumbles Pier (for kids) and Crabbart, Fall Bay, Port Eynon point, Pennard Cliffs and Whiteford for Sea Bass, Mackerel and Tope.
Archery
Contact Perriswood Archery centre, Penmaen/Nicholaston, South Gower. It costs around £10 for a session.
General information
Water Sports for all, Bishopston, 01792 234502 www.watersports4all.com
Gower Surf School, Newton, Mumbles, 01792 360370 www.surfgsd.com
Welsh Surfing Federation, Welsh Surf School, Llangennith, 01792 386426 www.wsfsurfschool.co.uk
Parc Le Breos Trekking Centre, Parkmill, Gower, 01792 371636 www.parc-le-breos.co.uk
Clyne Farm Centre, Mayals, Mumbles, 01792 403333 www.clynefarm.com
Go to the following website to find out about the following sports in Swansea Bay area.
http://www.swansea.gov.uk/index.cfm?articleid=881
Miscelleneous
Swansea University: http://www.swan.ac.uk
The Egypt Centre: http://www.swan.ac.uk/egypt
Wales National Pool: http://www.walesnationalpoolswansea.co.uk
Mumbles: http://www.mumbles.co.uk
Gower Coast Adventures (boat trips): http://www.gowercoastadventures.co.uk (Brill boat trips round Gower coast)
Gower Peninsula guides: http://www.explore-gower.co.uk or http://www.enjoygower.com
Rhossili Visitor Centre: http://www.nationaltrust.org.uk/main/w-vh/w-visits/w-findaplace/w-rhossilivisitorcentre.htm